Online store is successful when it's selling many products all the time. It's not only the number of customers that's essential, but also how many products they purchase. It's the shopping basket value that matters.
Increasing shopping basket value should be one of the main goals of online store. There are many ways to encourage customers to buy more. Below you can find a few tested methods.
Cheaper or free delivery when purchasing products of a given value
Many online stores introduce  free delivery when purchasing products for a given value. It's been proved to be an effective solution for increasing shopping basket value. Your customers prefer to add one more product to their baskets than pay for delivery. Of course, shops don't need to introduce free delivery. There's another way, shops can introduce certain levels – the more expensive customers' goods, the cheaper their delivery.
Some shops introduce a slight modification and instead of free or cheaper delivery for a given value offer them for a purchase of a given number of products.
Complementary goods
Complementary goods are products which are necessary for a given thing to work or improve its qualities and functionalities. Complementary goods are usually smaller accessories, products of much lower value than customers' first product. Complementary products are for example items: a power cord, headphones or a phone case.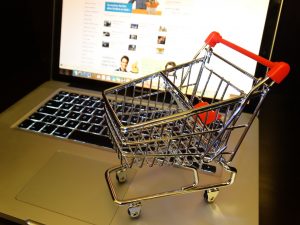 Popular products form given categories
Customers who are looking for specific products are very often also interested in other customers' choices. Therefore, it's best practice to show your customers what other people, who were interested in a given product also bought (products or services.) Your customer can be truly interested in other customers' opinions and shopping decisions, and as a result can decide to buy more products.
It's similar with showing products that are popular in a  given category. In this case it's best practice to show products a little more expansive than your customers are considering to buy.
Improved product versions
You can also increase shopping basket value by offering your customers  better versions of the products they're considering. It's best to show why a given products version is better and why it's worth to invest their money. Obviously improved products versions are also more expensive.
Gifts and shopping vouchers
Gifts and shopping vouchers can be offered instead of free delivery to your customers for a specific shopping basket value. Gifts don't need to be expensive, but should be relevant to your customers' interests. It's best when customers can decide and choose from a few offered products.
You can also increase shopping basket value by informing your customers that for a given value of their purchase they can receive a shopping voucher. It's a great incentive, not only for buying more products at the moment but for future shopping as well. If the shopping voucher is valuable customers will definitely use it.